Lieutenant General
- ★★★ -
Managing Member & Webmaster
Joined

Apr 1, 1999
Location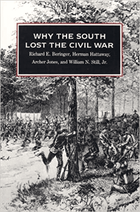 Why the South Lost the Civil War
by Archer Jones, Herman Hattaway,
Richard E. Beringer, & William N. Still Jr.
In this widely heralded book first published in 1986, four historians consider the popularly held explanations for southern defeat―state-rights disputes, inadequate military supply and strategy, and the Union blockade―undergirding their discussion with a chronological account of the war's progress.
In the end, the authors find that the South lacked the will to win, that weak Confederate nationalism and the strength of a peculiar brand of evangelical Protestantism sapped the South's ability to continue a war that was not yet lost on the field.
vote now
First and foremost, if you like the book or movie that a person has posted, upvote the suggestion.
If you want to participate in the discussion below, go for it, but don't forget to vote!
You can vote for a suggestion by clicking/tapping
on the grey arrow at the right of the first post:
(Or at the bottom of the first post on your phone!)
Once your vote has been recorded, the counter will
increase and it and the arrow will change colors:​