Hello guys!
another piece of my collection, the Kammerbuchse M1842/44 and M1849 Console Augustin Lockplate.
I have a question to ask: why is it called "Garibaldi rifle" in America?
Garibaldi and the "Garibaldini" (volunteers following Garibaldi) never had the Kammerbuchse, they have had Lorenz rifle (2,122 rifles were kept in the castle of Milan) Enfield, Colt revolver and Carbine revolver.
On January 15, 1860 Giuseppe Garibaldi thanked (with a letter in French) Samuel Colt for the gift of 94 revolvers and 6 revolving Carbine.
Garibaldi did not just accept the gift of the famous American, but he ordered another 200 revolvers and 55 revolving carbines.
It is uncertain whether they all arrived in time for the May 1860 expedition.
Let's go back to the guns:
The original 1842 M Kammerbüchse cartridge have a round ball wrapped in linen patch, tied to the end of the paper cartridge. The rifle had a Delvigne-style powder chamber (paper cartridge image from Dolleczek)
In 1847 the first conical bullet of the Habsburg Army entered service for these arms.
both rifles ( M1842/44 and 1849) used the 1847 model conical bullet.
The bullet had one deep groove filled with a lubricated felt belt. This belt was responsible for sealing the gases and lubricating the bore
original shot bullet find on battle camp:
and now the pictures of the rifle!
M1842/44 and bayonet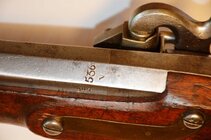 M1849 and bayonet