Brigadier General
★ Moderator
* OFFICIAL *
CWT PRESENTER
Forum Host
Silver Patron
Grits. They've been a staple in the South since before Europeans arrived. They're nothing more that ground corn, cooked in water. Most people you ask either love them or hate them -- and some have never tried them. For the most part, it's the texture that tends to deter the haters. But I wonder how much of that is because of the grits those folks have tried? There's actually a big difference from one bowl of grits to the next. Taking the time to properly prepare your grits Deep South style will yield these perfect results.
To help you better understand grits, here are a few Deep South grits facts:
1. Grits do not properly 'develop' when you try to rush then. Cooking them too fast or in the microwave will result in disappointment. There are no viable short cuts when it comes to grits. Bring them to a low, almost boil, then turn the stove on simmer. It will take a while.
2. Disregard the bogus claim on the front of the bag that says "Quick" or "Cooks in 5 minutes." No bowl of grits worth partaking of was ever ready in 5 minutes!
3. Grits are not a soup. They should be cooked long enough for the corn to release its starch. I call this 'developing' and it causes the grits to thicken. It'll be worth it.
4. You really can't cook grits too long. As they cook, they thicken and it becomes evident that they are nearing perfection. When they stick heavily to the spoon, they're ready.
5. Real butter is best, but if you prefer Country Crock it's fine to cheat.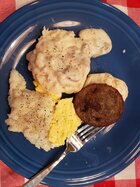 IMPORTANT TIP: START YOUR GRITS EARLY
To allow time for the grits to 'develop' properly, start your grits early in the meal preparation. After you pre-heat the oven for biscuits, but before you start the sausage, gravy, and eggs.
MEASURE
The perfect ratio of grits to water is 1:4. The corn absorbs a lot of moisture during cooking and Ive found this ratio to be perfect. 1/2 cup grits and 2 cups of water makes just enough for two. If you have a crowd, just increase the proportions in the proper ratio -- 1 cup of grits to 4 cups of water for four people, etc.
DIRECTIONS
Measure the grits and water using the 1:4 ratio.
Pour the water into a boiler and place it on the stove.
Throw in some salt - to taste. Some people are partial to salty grits; others prefer them more subtle.
Add butter (or Country Crock) -- at least 4 or 5 tablespoons per 1/2 cup of uncooked grits.
Bring the water almost to a boil and add the grits. Use a long handled spoon to stir. This not only helps to prevent sticking, it helps the corn release its starch.
Immediately, turn the burner down to simmer. Continue simmering as you move on to the rest of the menu.
Stir a few times during the simmering process. Be patient.
When the grits start sticking heavily to your spoon, you'll know they're nearing perfection.
Enjoy!